26/07/2021
Stopping offshore lifting
Offshore constructions are in new growth where the traditional oil & gas foundation applications are now expanded to the energy industry. The global warming is abated in many ways, the oil & gas industry is facing seawater level changes and improvements and more focus towards gas production. The worlds need for rapid increase of renewable energy turns especially wind farm applications to offshore growth. With growing offshore wind farms different types of energy handling stations as offshore platforms and islands are needed for use as substations, HVDC and hydrogen production. The knowledge from years of experience in the traditional offshore sector have been packaged to a patent pending application enabling solid and cost efficient solution with
minimal environmental impact and total removal after end of use.
The new concept is aimed for construction in shallow waters. In these cases traditional method have been to build rock island which have high costs and environmental impact. After the settlement time, installation of the topsides equipment starts. This can be replaced with a floatable steel island which after towage to offshore location is lowered and self-piled to seabed eliminating major parts of offshore construction. From construction point of view offshore lifting operations can be minimized lowering costs
and risks. The steel island withstands harsh conditions, such as ice, and do not need protection barrier repairs after each winter.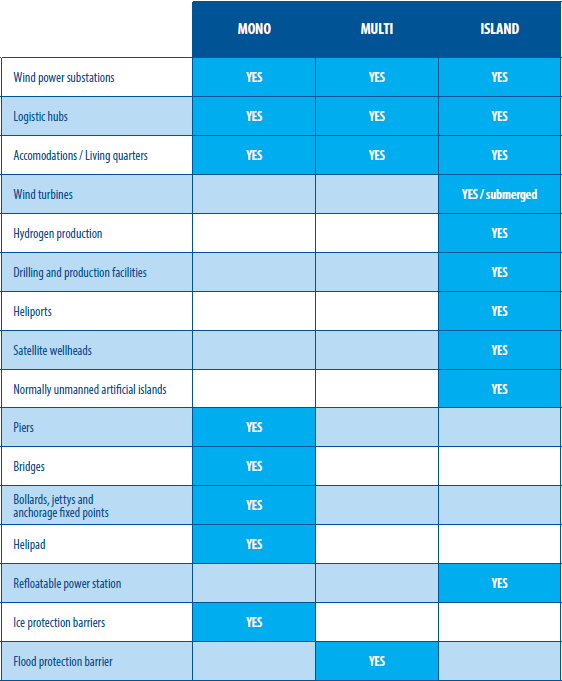 The floatable feature is designed so that on-shore construction can be done in various conditions. Even a sand shore can be used or then construct it in a ship yard dependent of customer demands. After construction the steel island with already onshore installed topsides is floated and towed to site. This can be done even to very shallow waters. Floatable Steel island provides a solution to shallow water field locations near shoreline where the traditional offshore lift vessels cannot operate. From asset risk management point of view the island can be refloated and relocated. From environmental perspective at end of use the artificial island is simply refloated and brought to a location where the steel can be scrapped for reuse.
For whom is this to consider? Just about any topside construction can be applied. If you have a project independent it's a foundation for wind mill, wind farm substation, hydrogen production, oil & gas field development for drilling rig, processing island or accommodation quarters. You may be looking into service hubs or just as a monopile for ice protection to your harbor or perhaps you need a platform for vessel surveys with independent drones. In any case you will get environmental and financial
benefits with a solution that do not need typical offshore construction such a lifting, dredging, hammering. The application is suitable from dense to soft sea bottoms where you might have difficulties of finding other suitable methods.