From API to final container
When planning a new production suite of a facility, it is essential to consider logistics and material handling, whether it be raw material, intermediate or final product. We are here to help you.
Process equipment for manufacturing pharmaceuticals varies from reactors and vessels to columns and filters. The intermediates are formulated to their final form – tablet, capsule, inhaler, container or syringe – depending on how the pharmaceutical product is dosed to the patient. In addition to the necessary production equipment and processes, utility generation and distribution must be designed. Warehouses are also an integral part of the production process in a pharmaceutical facility.
Clean utilities, including water, steam and gases, are used in many applications within the facility, for example for ensuring humidity in cleanrooms and for decontamination or sterilization. In addition, products require special waters (PW and WFI).
A well-designed automation system is the core of the production process. The system uses data from process equipment to monitor and control critical parameters and report results. The electronic batch record reduces manual paperwork.
Sound complicated? Don't worry, we can help define the solutions you need.
Upstream processes
Do you need a partner for designing API production? We have broad experience in designing and delivering facilities for the production or processing of APIs and related raw materials.
When designing a new API (Active Pharmaceutical Ingredient) process, we consider any occupational hazards and chemical exposures. To avoid exposure to potent chemicals, we ensure that the principle of a contained process is applied in the facilities. We can even help with the detailed design of reactors that API production often requires.
Naturally, we take local regulations and restrictions into account and always strive to use the Best Available Techniques (BAT).
The best outcome, a safe and effective facility, is achieved through good cooperation with equipment vendors, contractors and other stakeholders. Our extensive network of suppliers and contractors enables us to find the solution that fits your needs and requirements.
Downstream, fill and finish
We design and implement demanding facilities with a high level of cleanliness for the pharmaceutical industry. We can also help you evaluate the appropriate dosage form and packaging.
Do you need expertise in downstream processing, during which the produced API or intermediate is polished and cleaned? Turn to us. We also offer our know-how in the fill and finish stages, in which the tablets are manufactured and the solutions and powders are filled in suitable containers. We can develop the final packages according to your own design.
We ensure that the processing complies with all requirements for hygienic design, especially for pharmaceuticals that require aseptic filling. We have designed downstream processes with fixed stainless-steel equipment, single-use equipment and hybrid solutions. We are familiar with filters, columns and other equipment needed, and we understand how to optimize your process based on the critical quality parameters.
Our broad network of equipment suppliers enables us to find downstream processing equipment complying with your requirements. Together we will find the solutions most suitable for your special demands.
Contact us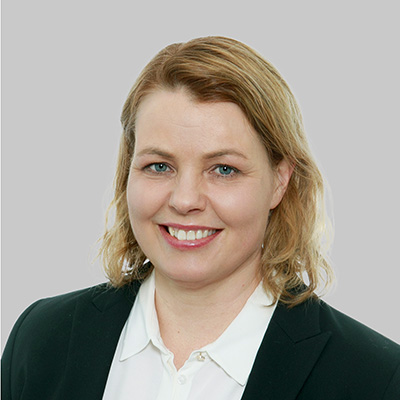 Mona Åkerholm
Senior Vice President, Pharma

Riikka Peltola
Sales & Development Manager