Digital application development and XR solutions
3D design materials can be used in the manufacture of equipment, production, training, problem-solving and communications. We provide various applications and XR software tailored to your needs.
The industry of the future calls for tools of the future! As a modern employer, it is important to offer the best tools to attract the most competent employees. An increasingly complex operational environment requires clear tools for communication and quality training content. By making use of existing 3D content, we can create customized solutions cost-effectively.
For instance, AR applications will help you in installations through collision analysis and quality assurance. It is easy to check the joints of piping when the AR model has been placed at the installation site. The 3D model, which can be viewed on a mobile device, is easy to take to the field both for management instructional and problem situations of the employees.
With VR technology, your personnel can be trained effectively in a realistic environment already before the plant is completed, and risk-free training can be provided on dangerous environments remotely.
Through the use of industrial 3D applications and XR technologies, you can ensure your place on top of the market!
AR applications
VR applications
PC applications
Mobile applications
Virtual Mill is a virtual working environment of a factory in which the user can move freely, get acquainted with the processes and practice various maintenance operations using VR technology.
VR technology has been proven to improve users' learning
Training can be started before the physical plant has been completed
Interactive maintenance tasks correspond to maintenance performed in real life
Training without safety risks
Ability to embed your own content, such as documents, images and video
The visually accurate virtual environment provides all relevant stakeholders with access to technical 3D content. It can be useful at various training occasions, especially if it covers the entire production process. VR technology allows improving the quality of training significantly, as learning by doing virtually is a training method that has been proven to work.
VR learning is the perfect compromise between the ease of digital distribution and the high quality of on-site training. On the other hand, a normal PC version makes for a good complement to traditional training sessions and discussion – even remotely.
Virtual Mill is created from a plant design model, to which a visual layer is added with realistic materials and lights, as well as interactive content such as maintenance procedures. The technical data and sensor data of the devices can also be displayed in the required location.
Phases
1.
Design model optimization and exporting into a virtual environment
We can download design models from all design systems. With our optimized process, we are able to effectively lighten the models.
2.
Creation of visual elements
We will create realistic materials and lights in the environment, as well as an intuitive user interface.
3.
Creation of training content
We tailor interactive animated training content, step-by-step maintenance positions, 360 images and safety awareness training according to your needs.
4.
Easy and quick implementation across various platforms: PC, VR glasses, tablet and phone.
We help you in user-oriented design, using VR environments. This can speed up design and improve its quality using virtual feedback reviews and feedback sessions.
Cost-effectiveness: Rapid virtual testing without having to physically build models
Saving time: You can see the effects of changing materials and layouts immediately – even remotely
Versatility: You can make changes in the virtual environment and share them with stakeholders
Added value: Can improve the efficiency of design, allows training during commissioning and practicing maintenance, and can be utilized in marketing and combined with other visual design products
A VR mock-up is a virtual model of a workspace compatible with VR glasses. This allows seeing the premises from the end-user's perspective. You get to test designed solutions and even change them before the physical premises are built, if necessary. Visual observation of needed changes will create savings in both money and effort.
A VR mock-up can already contain various configurations to allow comparing design options and choosing from among them. The value of immersive viewing is unbeatable in this situation and enables a completely new approach to early-stage design and end-user testing.
We also offer consultation by our experts for usability and user experience design. This allows you to ensure the quality of the created space and its ability to successfully serve the end-users.
Phases
1.
We optimize the design models or create them based on draft 3D models and export them to a virtual environment.
2.
Creation of the visual appearance
We will create realistic materials and lights for the 3D models, as well as an intuitive user interface, in accordance with your brand.
3.
Creation of additional AR functions
We add the desired additional functions to the VR environment and 3D models inside.
4.
We publish a mock-up tool for the desired VR glasses and platform.
We offer augmented reality application for inspecting premises, managing installations and quality assurance. You can carry the devices to be installed in your pocket and use AR technology to bring them to the target premises.
AR site inspections
AR installation management
AR Quality assurance
3D Viewer
Material changes
Customized features
Sixth Sense AR is a mobile application designed for industrial use, which allows examining design materials in physical environments. You get to see your product in its actual environment, change between different device models and materials, and see how your product fits in the desired space.
Seeing the results of design and the actual environment side by side allows inspecting the planned installation interfaces in reality, for example. This way, both management and employees can observe possible problems in advance, making observed issues easier and cheaper to fix.
The applications also offer a 3D Viewer function, which allows examining the design material on a mobile device without the AR feature. The content is optimized to work even on inexpensive smartphones, which allows widespread sharing of the 3D design material within an organization.
1.
We optimize the design models or create them based on draft 3D models and export them to a Sixth Sense App.
2.
Creation of the visual appearance
We will create realistic materials and lights for the 3D models, as well as an intuitive user interface, in accordance with your brand.
3.
Creation of additional AR functions
We add the desired additional functions to the Sixth Sense AR app.
4.
We publish the Sixth Sense AR app for Android or IOS devices.
Customized application development
Our Digital Pipeline principle enables cost-effective creation of 3D material for various needs in application development. We can build a useful application quickly.
AR applications
VR applications
PC applications
Mobile applicationss
Web-based applications
Visual communication at various stages of the value chain can make operations significantly more efficient. Often, the quality of investigation related to problems depends on the ability of various groups to find consensus and a clear overview. Visual 3D content is an unbeatable help in such challenges.
For example, shortcomings in collision analysis during installation can cause delays in the schedule of a project. To avoid this, collision analysis can be supported using an AR application, which allows superimposing the 3D design material on top of the actual environment. This provides a new perspective that can be used to easily observe previously unnoticed problematic areas.
Other use cases include:
• data visualizations for control room environments
• processes related to finding parts in logistics
• solutions for safety training
• 3D solutions to support maintenance
• sales configurators
• collaborative inspection solutions
• AR applications related to quality assurance.
We are also glad to innovate another solution to meet your needs!
Phases
1.
We optimize the design models or create them based on draft 3D models and export them to a Sixth Sense App.
2.
Creation of the visual appearance
We will create realistic materials and lights for the 3D models, as well as an intuitive user interface, in accordance with your brand.
3.
Creation of additional AR functions
We add the desired additional functions to the Sixth Sense AR app.
4.
We publish the Sixth Sense AR app for Android or IOS devices.
User interface and usability
User interface (UI) and user experience (UX) design are of key importance in usability design. We help you create successful products that are easy and intuitive to use.
Virtual user interfaces (VR, AR and MR)
Human-Machine Interfaces (devices and mobile machines)
Tools and machinery
Desktop monitors and portable devices
Software and web-based applications
Process user interfaces (plants and control rooms)
Factory premises, production lines and control rooms
Public spaces
High-quality usability can significantly improve the final use of the product. Successful use requires that the user's needs, goals and possible issues are very clear. This enables creating an intuitive user interface, which includes all necessary functions and user interface structures.
Usability is successful when the user doesn't even notice it – everything simply works as it should. We can utilize many different approaches in design, such as end-user interviews, virtual models, prototypes and VR technology.
However, in addition to all of these, you also need a professional to create the elements of the user experience and their visual style. We have over 15 years of experience in the design of usability and user interfaces. Do not hesitate to get in touch!
The Link – Digital prototype
You can assess the usability and performance of your machinery even without a physical prototype by combining technical 3D models with mathematical simulations.
Created in cooperation between Elomatic and Devecto
Using Unity and Simulink technologies
A realistic simulated model replaces early-stage physical prototypes
In collaboration with Devecto, we have created a way of combining the visual 3D model of a device with a physics model. The end result is a realistic virtual prototype that replicates the features and functionalities of the actual machinery with high precision.
A solution created using The Link method can be run with traditional digital devices. The solution involves information flowing in two directions: from the 3D model to the physics model and vice versa. This creates an authentic way of assessing the designed machinery already before a physical prototype is available.
Creating a digital prototype using The Link method at the very beginning of a product's life cycle provides you with the most benefit. Cost-efficient testing helps to avoid expensive changes in later stages. A realistic simulation is also a great way of getting your message across effectively in sales and training contexts.
Our digital production chain allows us to produce 3D content even more cost-effectively than before. We can provide you with a superior service package to support your operations.
Efficient production pipeline from your design material to a variety of different end products
3D images, animations and interactive applications using the same material
Publication on various platforms: web, mobile, VR and desktop
An essential part to your future Digital Twin solution
Animations, 3D images, 3D applications and XR solutions can all utilize the same 3D-content. That is why we only need to optimize your 3D design materials once. The process progresses in stages, starting with an optimized non-visual 3D model.
The lightened technical content, implemented in design colors, can be used on mobile devices by employees in the field without the need for expensive design licenses. In case of problems, 3D material is a great way of building consensus between management and employees.
Visualizing the design material creates the basis for building both 3D images and animated content. We produce high-quality visual content, which can be used for training, sales and marketing purposes.
We can also create specific interactive tools on top of the visual content. Examples of projects we have carried out include the Virtual Mill VR training and the Sixth Sense AR application for communication during installation.
Phases
1.
We simplify the design model and publish it on a mobile platform, for example. This way, you get an effective tool for on-site problem solving.
2.
We process this lightened model further with realistic materials and lighting, which enables you to use it in supporting sales and marketing.
3.
We can add functions to the visualized model, enhancing the way it can be used for marketing and training purposes.
4.
We import the animated visual models into a virtual environment where users can view them in real size or practice maintenance measures, for example.
Contact us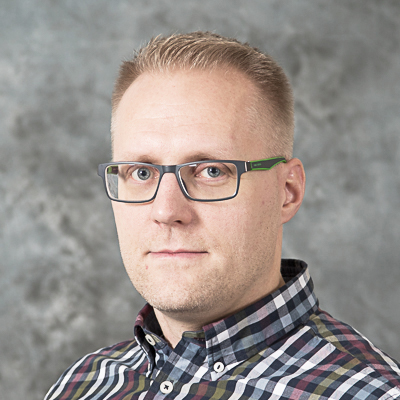 Marko Jaakomäki
Design Manager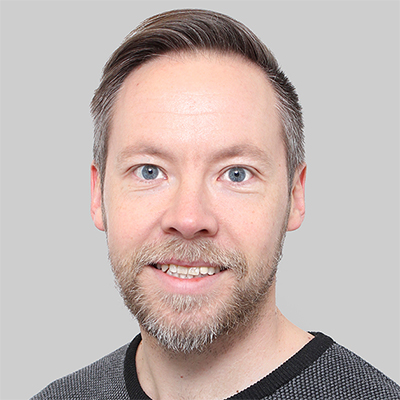 Jukka Timonen
Solution Manager