05/12/2019
Leveraging the benefits of digitalisation
Industrial Internet, automation data processing, and cloud services.
Society is currently undergoing a digital revolution which, in addition to changes in our environment, is creating and transforming industrial business models and value chains. The Fourth Industrial Revolution will transform the Industrial Internet (IIoT) by connecting real-world machines and equipment to each other and the network.
This article addresses the requirements of cloud services and automated data processing for future automation assignments in industrial applications to fully leverage the benefits of digitalisation for the benefit of the customer.
As I drive to work in the morning, I notice people locating and renting electric scooters on their mobile devices in light urban traffic. At the same time, the radio presenter reports on the latest digital breakthrough. On my way home, I pick up food in a pre-packaged bag at the supermarket with the food I selected the night before on my computer. I notice that my hometown in Turku, Finland, is part of the technological revolution that is changing cornerstones of our environment that were considered constants.
The combination of external, cloud-based artificial intelligence with smart mobile devices – even electric scooters – has created new business models and value chains in civilian life. Companies from all sectors are trying to get their share of the spoils. Industrial companies have also seen the potential created by digital technology development to enhance, grow and improve their reliability and business operations.
Fourth Industrial Revolution
Traditional industrial automation is once again on the verge of a new revolution, which will significantly expand the requirements for industrial automation supplier competence, tool competence and partner networks. The first three revolutions in the industrial sector have brought production processes under the control of industrial automation through the use of steam and the introduction of electrical power.
Conventional assignments in industrial automation have so far included field automation design, process control system and user interface design, as well as software design. However, the scope of delivery of a data cluster is mostly limited for financial as well as traditional reasons, such as prejudice and cybersecurity, within the boundaries defined by the manufacturing facility or the group. The Fourth Digital Revolution will transform IIoT by connecting real-world machines and devices to each other and the network.
Due to the measurable business benefits of these developments, the traditional concept of the industry-wide data cluster will be expanded, especially for cloud services. This will, of course, require rethinking, for example, in relation to information and cybersecurity. The IIoT and the Internet of Things (IoT) are basically the same thing, but IIoT needs to consider industry-specific requirements such as system reliability.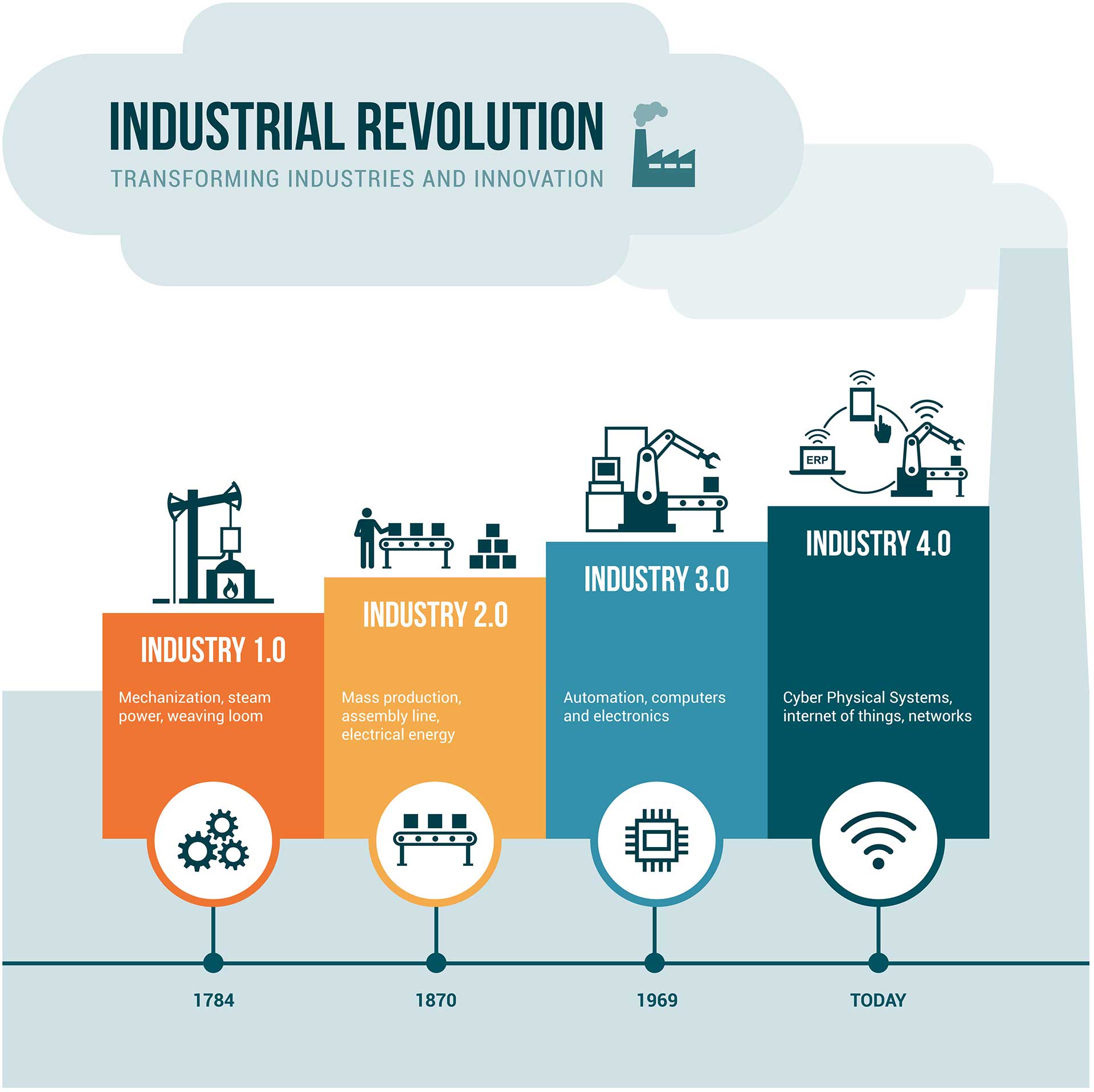 A timeline of the four industrial revolutions
Industry 4.0
Launched in Germany in 2013, the term Industry 4.0 is used worldwide to describe an industrial internet revolution based on the integration of advanced automation solutions with cloud platforms, advanced analytics, artificial intelligence and augmented reality.
Its mission is to develop flexible and customised future manufacturing systems, integrate different customer and subcontractor networks for added business value, and integrate products and services into hybrid products.
Requirements for automation assignments
In the future, industrial automation suppliers will, in addition to traditional tooling skills, be required to have networking capabilities and a strategic partner network to complete commissions. This is needed to fully leverage the benefits of digitalisation for the benefit of the customer.
Digital cloud services provide a new way for third-party and fourth-party providers to leverage applications and build powerful integration interfaces between parties. Simultaneously implemented database cluster options are growing exponentially. If a client's data cluster is large or has multiple layers, it is necessary to implement higher-level platform solutions to combine information from subsystems before storing it in a local database or cloud service. In addition to traditional desktop applications, the information should be accessible through mobile applications, anytime, and anywhere.
At Elomatic, we are responding to this challenge with our partner network by providing the tools and the required technology know-how under one roof from concept to detail design. In many process and food industry plants, we can complete the package with process know-how. The EloWise product family is a good example. It was developed specifically for the needs of data integration, data collection, reporting, proactive maintenance and production control.
Commercial and open-source tools
In addition to in-house service products and applications, which can be published even through online application stores, automation solution providers will also be required to have knowledge of open-source tools developed by commercial and development teams. Only by mastering cross-technology in its entirety, can data integration, visualisation, analysis, and data reporting in a cloud service or local database be designed and implemented in a competitive manner.
Diagram 1 illustrates the hierarchical levels of data processing and processing needs. At industrial sites, data collected from the field via sensors or other data sources is read from an automation system such as the Siemens PCS7 / TIA Portal, Honeywell, DeltaV process control platforms via an OPC (Open Platform Communication) interface. An extension of the OPC communications protocol is currently being planned that is independent of manufacturers and includes real-time field devices. This is possible with the new OPC UA (Unified Architecture) over TSN protocol. Experts consider OPC UA TSN technology as the means for future communication in Industry 4.0 and IIoT.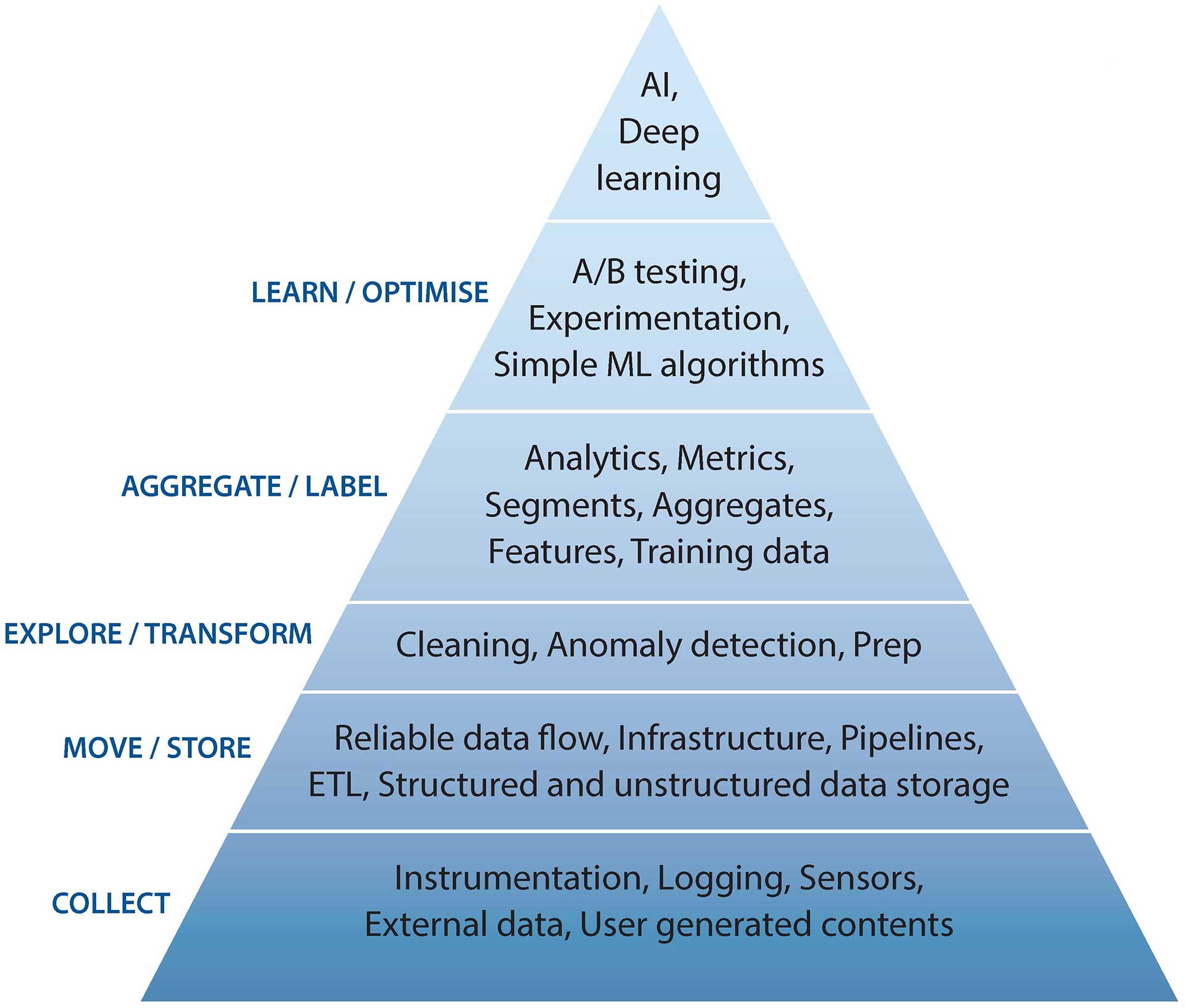 Diagram 1. The data science hierarchy of needs.
Cloud Services
In cloud services, read data is transferred to a cloud database via a dedicated router. AWS (Amazon Web Services), Microsoft Azure, and Google Cloud are currently the most widely used cloud platforms worldwide.
Automation system vendors also offer their own cloud services that run on top of one of the global platform solutions. An example of this is the Siemens Mindsphere cloud service, which runs on AWS. For security reasons, the database may also be located on the production site's own server. In such cases, however, many benefits of a cloud-based solution are lost.
Function optimisation and data structuring
Stored information can be structured or unstructured. Data analysis experts structure data and remove irrelevant elements (so-called noise) from data in databases.
Process or process support functions such as maintenance are optimised in collaboration with the customer by monitoring sensor values (pressure, temperature, vibration, humidity, etc.), iterating production control parameters, and measuring KPIs (Key Performance Indicators) based on the parameters analysed and the resultant corrective measures taken. If a digital twin of the process control system with a real time production data connection is available, it can be used to test the proposed corrective measures. The goal is to create value for owners by streamlining process operations, proactive maintenance and minimising production waste.
The duration of this step varies from case to case, sometimes it can take several years. This gives the automation supplier the opportunity to create mutual business benefits for itself and the customer, for example, by integrating a lifecycle management service into its production development program.
Visualisation tools
There are many different options available on the market for visualising the results of analyses and process optimisations, such as Microsoft's flagship product MS PowerBI. Many automation system vendors also offer visualisation packages with their system delivery and cloud service concept. Siemens offers the Tableau visualisation tool, for example, with its Mindsphere cloud platform. Open source platform-independent visualisation tools such as Grafana, however, also provide a competitive alternative.
Machine learning and robotics
With an extensive partner network and university collaboration, industrial automation suppliers can finally rise to the top of the information needs pyramid. Based on what is learned at the lower levels, advanced analytics and mathematical algorithms are developed that model and predict the process. Based on this "intelligence", the program suggests process improvements and can also implement them – this is machine learning.
Advanced robotics complements the whole system by pushing the degree of production automation even higher, both in the production itself and its supporting functions.
Autonomous factory
With increasing computing power, the ever-evolving realm of application options adds another dimension to the digitalisation of industrial automation. For example, the integration capabilities of proactive maintenance with augmented reality and machine learning production control systems inevitably create the image of an autonomous factory. In addition to actual production processes, an autonomous factory maintains and optimises itself, its material inventories, and delivers production reports to its owners.
Early warnings of technical malfunctions are provided, after which the installer can take remedial action by completing an inspection tour of the production facility's digital twin with real-time information associated with each device.
Summary
Industrial automation and IIoT engineers are pioneers in the Fourth Industrial Revolution. It will be remembered as one of the most significant periods in the history of industrialisation and society. The ongoing digital breakthrough in industrialisation will be the largest of its kind.
The original text has published in our Top Engineer magazine 2/2019