10/01/2022
iReality3D: Mobile scanning – digitizing industry
The service solution iReality3D produced with mobile scanning boosts the maintenance, communication, security and modification management of your production sites in an agile way. The visual digital twin solution is available to you wherever you are, as long as you have an internet connection.
The benefits of laser scanning in generating initial data for modification planning have been undeniable for years. As technologies evolve, greyscale scanning is becoming a thing of the past and the visual presentation of data is becoming increasingly important. Today, collecting 360° HDR panoramic photos during colour laser scanning is commonplace, and there are already many good solutions for using the data.
The challenge in many user environments is the sensible handling, sharing and huge file sizes of collected data. In large projects, there can be up to several terabytes of laser-scanned material, and the simultaneous processing of such a large amount of material between several parties in real time is very challenging. Materials are often accessed from external hard drives that are under the control of specific users, and the sharing of materials between different parties in a project is not always smooth.
Data sharing and user management can now be solved with a cloud-based SaaS service, Elomatic iReality3D, which takes into account several different uses and user needs.
The comprehensive service is based on mobile on-site scanning and processing the material into a ready-to-use cloud service application. User rights and different user categories for various parties are created in the secure service according to need. Users do not have to download or manage heavy files on their own computers, as the material is directly available via the cloud service through a web browser.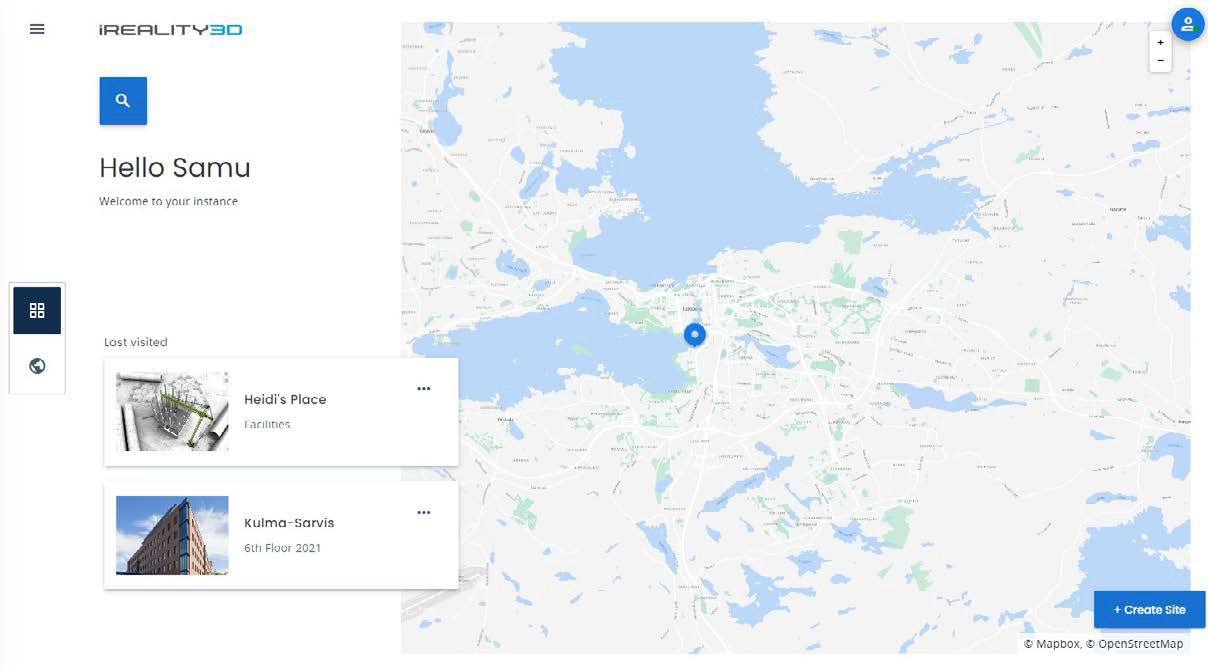 The scanning material traditionally collected with plant scanners is mainly used as initial data for modification planning. The more agile mobile scanning and service platform enable a wider range of uses during the completion and use of the site. It is also possible to include material produced with other scanning methods, such as plant scanning or drone mapping, in the service.
SLAM
The mobile scanning solutions utilise SLAM (Simultaneous Localisation and Mapping)-based technology, which was originally developed in the robotics industry and used in self-propelled vehicles. In SLAM technology, the algorithms continuously utilise information from sensors that scan the environment to determine the location of the device and map the environment.
SLAM technology enables fast and accurate 3D data collection and is particularly well suited for mapping complex spaces. SLAM technology works particularly well in spaces with a wide variety of shapes and environmental features. Many measurement algorithms can become confused in fully open spaces where there are not enough identifiable objects or they are identical or too similar. A long, open tunnel, aisle, or an empty car park with dozens of symmetrical pillars can present slight challenges, which, however, are always solvable.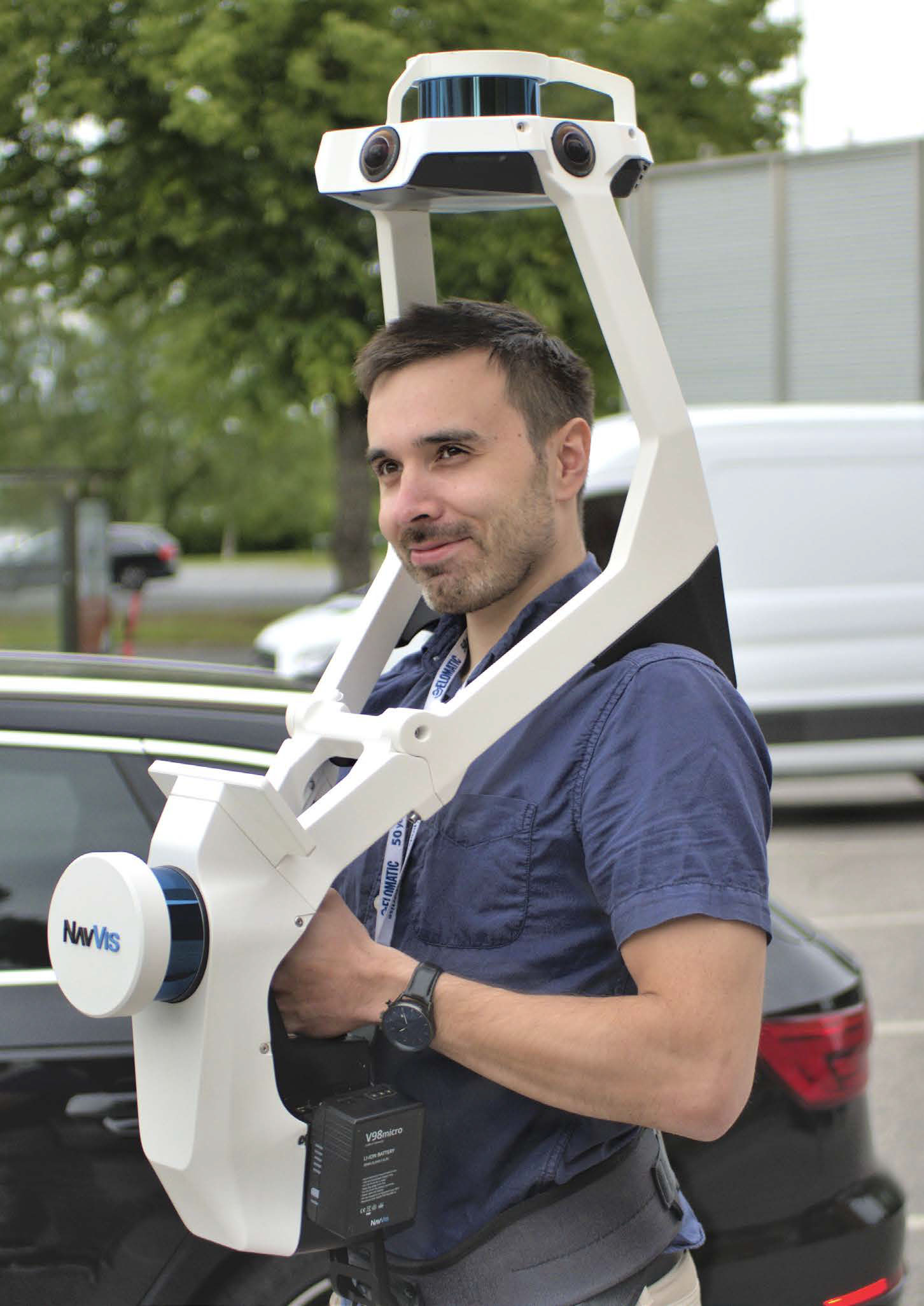 Accuracy
Mobile laser scans are bound to local or general coordinates using known points measured with a tachymeter or coordinate points based on satellite measurements measured with a GNSS device. The use of these control points also ensures overall accuracy, so that errors do not recur and the data is not twisted or stretched incorrectly. Depending on the conditions, the accuracy of the point cloud produced by mobile scanning using control points is about 8–15mm. Correspondingly, mobile measuring has more error factors than a plant scanning performed with a fixed tripod, due to which the exact same accuracy cannot be achieved. However, there is a place for more traditional plant scanning, too.
The trump card of mobile scanning is the speed of the measurement event. The measurement speed achieved with mobile scanning is up to tenfold compared to that of traditional plant scanning. During scanning, 360° photos are also taken at the desired shooting frequency. Thanks to SLAM technology, an automated process places the 360° photos in their correct places, creating flawless maps for easy navigation. Thus, mobile scanning often outperforms more traditional 360° photography with its agility and automation, even if there is no need for 3D data.
Features
In the interface, the user navigates in either 360° photo views or a 3D point cloud, assisted by floor map views and layer selectors. With the measuring tool, it is easy to measure distances, shapes and areas. In the application, POIs (Points Of Interest) can be created and categorised in feature groups to facilitate search functions. External information, such as images, videos, documents or even real-time data from IoT environments, can be linked to each POI. The application can be used on mobile devices, and route guidance is available. The user is able to download the 3D point cloud of the desired area directly from the service for use in third-party point cloud applications for modification planning or manufacturing analysis. The user management function allows to create different levels of user rights from administrator to content producer or viewer.
Why
Since mobile scanning is a fairly quick procedure, it usually does not interfere with production. After the scanning, virtual factory visits are possible from anywhere at anytime, and they can be arranged for any desired party without anyone having to travel. The application can be used to organise user training for new employees or tours for various visitor groups in good conditions and in an comprehensible and safe way. The application can be used for installation phase audits, safety assessments or planning for future maintenance activities without an on-site visit. It can also be used to easily present, for example, production premises for sale with their dimensions or as a marketing and presentation application for new properties. Situational awareness is improved and the risk of misunderstandings is reduced, time is saved and travel expenses are reduced.
Industrial sites are always a safety risk for workers and, in particular, visitors, which is why the method is particularly well suited to sites where it is especially difficult to arrange safe visiting conditions and permits.
As mobile scanning is a rather agile measurement event, the method is also suitable for repeated measurements, e.g. for recording different intermediate stages of construction. In this way, things that are hidden during the construction process can be documented for future needs.
Thanks to the development of sensor technologies and agile server solutions, various scanning technologies have become more common and methods are being used more effectively to serve modification planning as well as the management of the site throughout its lifecycle all the way to training, security, communication and marketing.