31/12/2019
Data collection and analyses in the marine environment
In recent years, much noise has been made about digitalisation in the marine sector. The related devel­opment areas include, among others, autonomous navigation and steering for ships, as well as more ad­vanced ship automation systems that ease the lives of crew and owners. In leveraging the benefits of digitalisation, data collection and analysis have become key focus areas.
Today's ship automation systems have been able to capture all possible operational environment and ship status data for several years already. This has made a massive amount of data available for fleet owners. Generally, this data is not collected for deeper analyses.
Many manufacturers also send data from devices to their own cloud storage. They are naturally not interested in sharing this data with competitors. This, in turn, leaves shipowners with the headache of monitoring relevant data and alerts from many different sources and systems.
This time 1+1 = 3
Analysing the combined data from several systems as a whole expands knowledge of the entire fleet operation and maintenance cost structures. One can improve a ship's operational awareness and react to related incidents or performance issues faster by capturing ship parameters such as location, speed, heading, wind, systems statuses.
However, by using a much greater amount of combined information for concurrent analysis (big data), far better results can be achieved than by following individual measures of individual ship systems. It is, for example, possible to compare current and historical data to inform the crew of more optimal driving parameters. One can also estimate the need for possible upcoming services, maintenance or docking schedules.
When an online data connection between the ship and the shore is added, a live MIMIC-view can be achieved with all the statuses and video connections from the ship to the owner's remote observation centre. Operators in the remote observation centre can support the crew fleetwide when needed.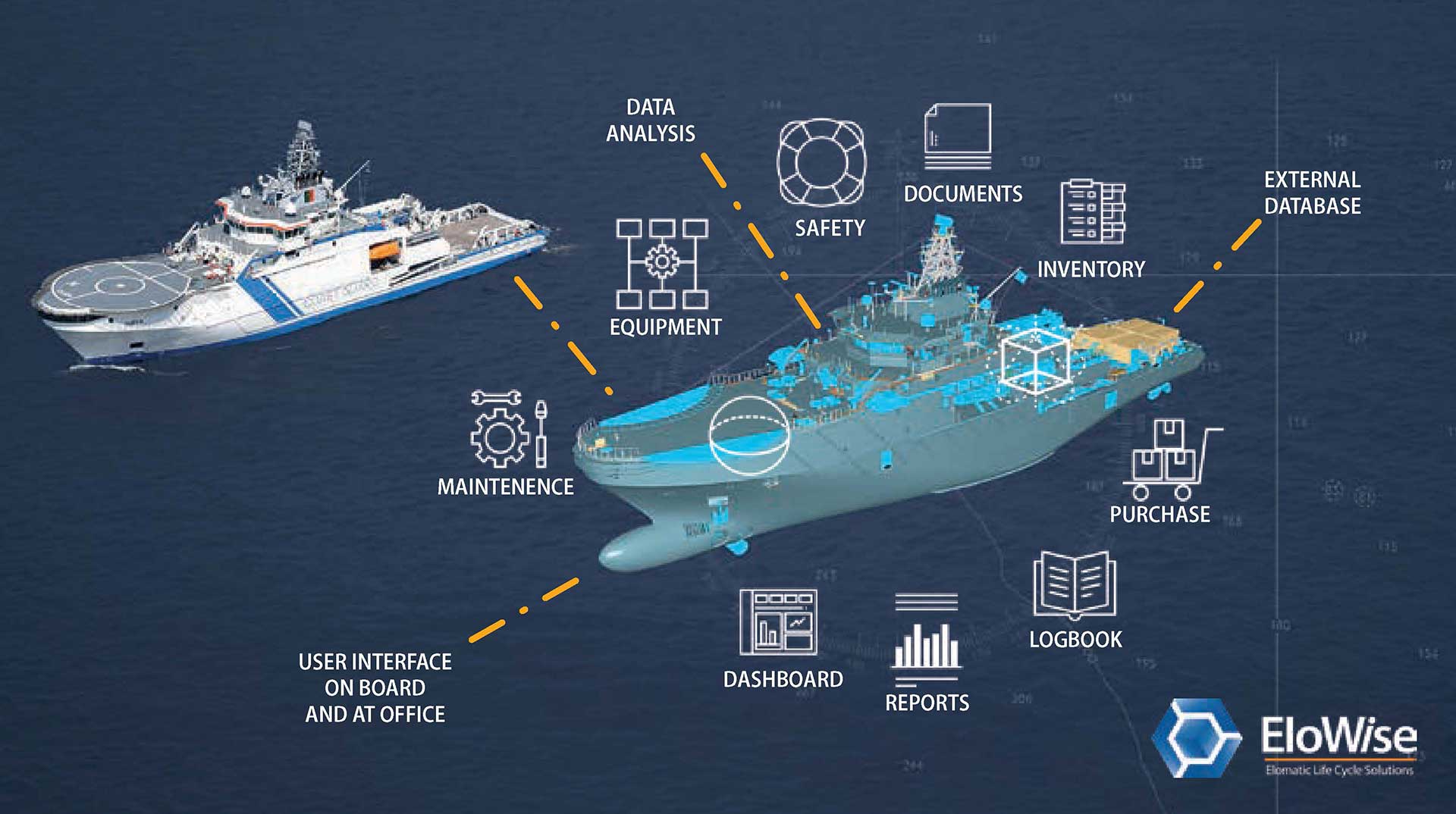 Improving operational fleet costs
Data collection systems allow the monitoring of individual indicators via a dashboard. More advanced functionalities can, however, be set up so that the analysis of large amounts of data can gen­erate more information. This includes:
The most effective way of running a ship in certain conditions
Service needs
Docking planning
Consumption in different conditions and routes
Benchmarking different ships (or crews) with particular route
Service management such as inventory and purchasing of spare parts

Autonomous ships
Autonomous ship technology is a big development area in the marine industry that has been driven by digitalisation. Several companies are investigating and investing in technologies to enable unmanned ship operation.
The ultimate goal is cargo ships that can operate fully autonomously between continents. The reality is, however, that the current technology can only manage small ferries that have simple operations on short routes. Even this achievement would have been considered science fiction a few years ago.
The technology is set to develop even faster over the next 10 years and has created a new group of start-up companies, also in Finland. At the moment, several companies are researching and developing devices like sensors, as well as AI software applications for image recognition and navigation for the next generation of autonomous ship systems.
This technology will not immediately enable fully autonomous ships. Future innovations will be taken into use incrementally according to technology availability and price levels. In the first phase, a computer will alert crew members about issues it recognises in the environment. The next step will be computers that can advise the crew and guide decision-making, i.e. computers that execute actions only once the crew approves. After several small steps, the ultimate goal will be fully autonomous actions without the need of crew participation.
This final milestone will significantly affect the exterior of cargo ships as well as the interior arrangements, due to the decreasing number of crew members on board. There will be no need for accommodation areas on cargo ships as no crew members will work permanently on the ship. Much of the technology and many spaces can be removed once there are no humans on board.
Autonomous ships are observed and controlled remotely. It is essential to develop online data collection and analysis to enable advanced remote control of ships.
In addition to the real-life ship, there is need to create a digital twin to allow the ship crew and remote workers to have the relevant statuses of the ship at the same time.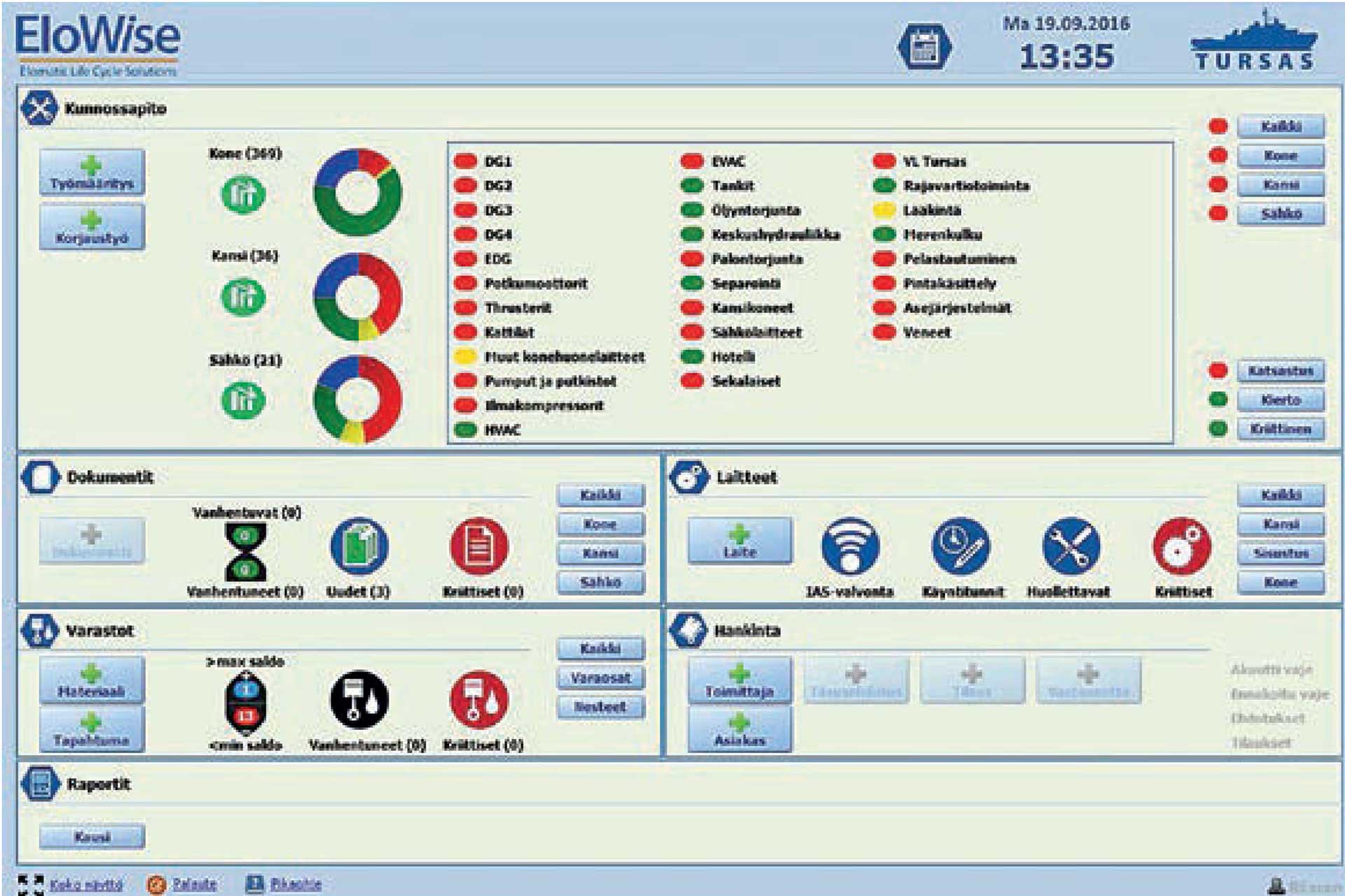 EloWise data collection and management system
Elomatic has developed a first-generation data collection and management system called EloWise. The system has been used both in marine and shore­side industrial environments.
EloWise can be tailored for use in the digitalisation of fleets. It is simple to build up a digital twin with the EloWise system with the use of original ship design information such as the 3D model and other design documentation.
Later on, more information can be added such as 360° photos or even live video streams, if needed. EloWise can be used for handling ship automation data collection, service management tasks such as inventory control and purchasing of spare parts and a digital twin approach both onboard and onshore. Currently, EloWise is used on­board the Finnish Border Guard vessels Louhi, Turva and Tursas.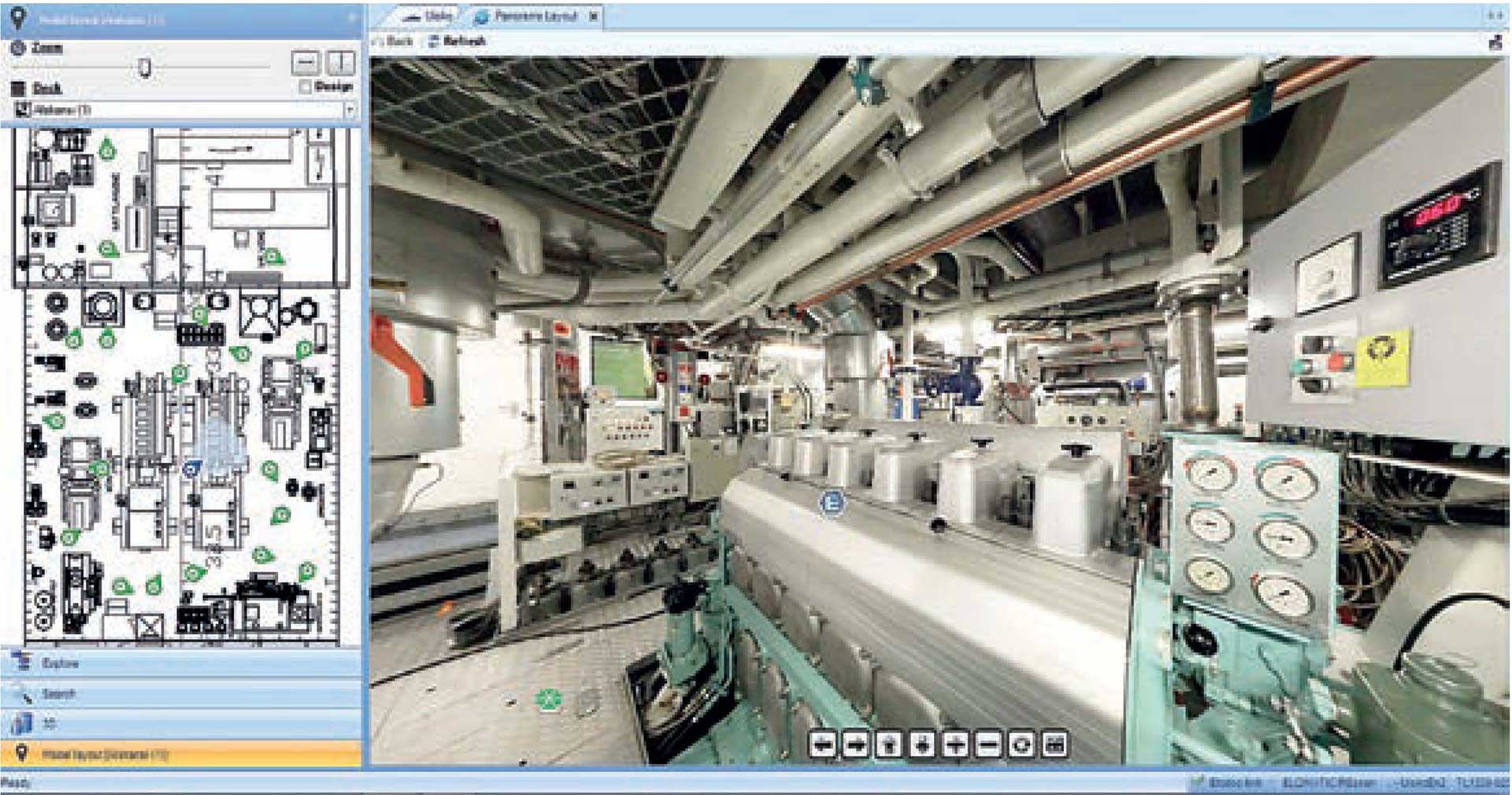 This article was first published in Elomatic's Top Engineer magazine 2/2019